Kisan Smart (Coop)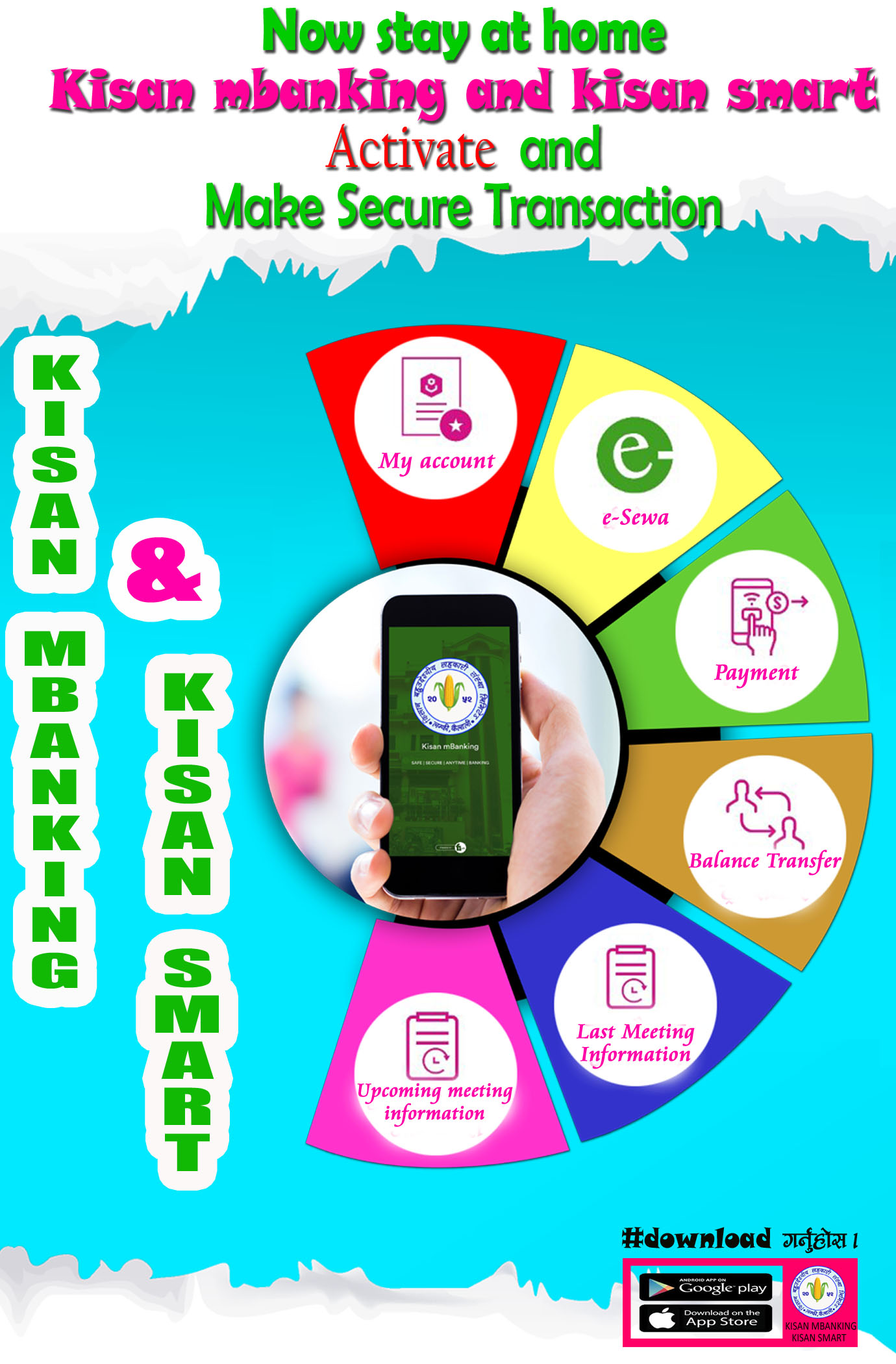 Kisan Bahuudeshiya Sahakari Sanstha has recently lunched application based Mobile banking service for banking clients. Kisan Smart banking service is availbale from all branches.

Customers can now utilise the bank services and transact with the products at any time, from anywhere. Kisan Smart is a safe, secure and user friendly mobile banking application.
Features of Kisan Smart:
1. Account Overview
2. Balance Inquiry
3. Mini Statement
4. Balance Transfer
5. Cheque Book Request
6. Cheque Stop
7.Cardless ATM
8.Installment Loan

Utility Payment:
Top-Up:
1. NTC CDMA
2. DishHome
3. Smart Cell
4. Broadlink​
5. ADSL
6. UTL
7. SUBISU
8. WORLDLINK
9. SIM TV
Top-Ups:
1. NTC Prepaid and Postpaid
2. NCell Prepaid/Postpaid
3. DishHome(PinLess)
4. UTL
Bill Payments:
1. NTC ADSL Unlimited and Volume Based
2. NTC Landline
Process to use the service
Fill the Mobile banking form to get registration with mobile banking network
Fees & Charges
Clients who opt for mobile banking services have to pay certain annual minimum service charge before activate the service as mentioned on agreement paper that is attached with Application form.
Mobile Banking is available to all Online Or OFfline Banking Users. If you would like to use Our Mobile Banking please follow the instructions
First of all Active your Mobile Banking Service
1.Android: Visit the Google Play Store
2.Search for "Kisan Smart"
3.Install the Application
4.Once downloaded...tap the icon to log in
5.Select New user
6.Enter your Username(Mobile Number) & Account Number
7.Verify your authentication"Alpha Pincode", then log in
Download from here : KISAN Smart Application